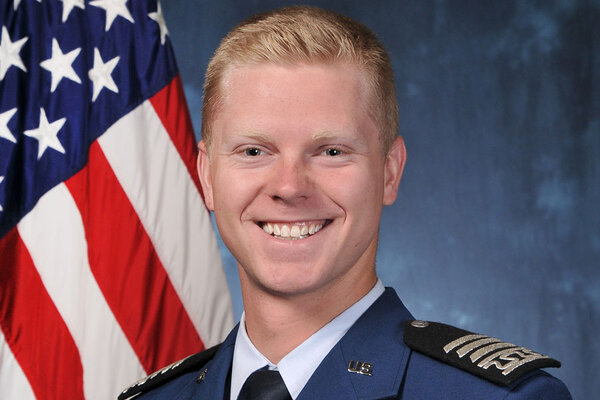 The Christian Science Monitor (source of picture above) recently published a rather remarkable story about recent U.S. Air Force Academy graduate, Joshua Waugh, and the lifetime of neglect/abuse he faced before entering the AFA. When I read the account of Waugh's biography I was slugged in the chest, for starters, regarding his response to the irresponsibility and exploitation of and by his guardians as he grew up. Here is just one quote from the article which you should read,
After a lifetime of neglect, Air Force Academy graduate finds his wings:
Born to two "very drug-addicted parents," he says, w​hen he was in elementary school he and his diapered baby brother were locked outside in the snow by foster parents who decided they didn't want the boys anymore. In his pre-teen years, he learned to live on the Ramen noodles and potatoes he bought working construction sites for a few bucks a day. He quietly survived sexual assault at the hands of another foster family member.
Of course, what struck me further and more relevant to the kinds of things I combat at this blog was the contrast of Waugh's narrative to the proposition of perpetual victim status/identity which I have observed being fostered at blogs such as The Wartburg Watch and Spiritual Sounding Board in the Evangelical community (as well as the same perpetual victim status/identity doctrine employed outside of Christianity with your typical therapy-inductive resources). You may disagree with my personal assessment but before you register a protest I suggest you read, extensively, how the comments section of these blogs are permitted to flow.
As I have observed, both categories or groups (those in and outside of the church) have as the most substantial part of their victim doctrine, the creed of perpetual or life-long emotional/psychological disability being a matter of default certainty for any and all who encounter any similar kind of abuse in life, especially in childhood.
Now let me be clear, abuse does result in suffering and injury but that suffering and injury cannot have and should never have a presumed default status. What these groups do, in my opinion, are dramatically juxtaposed to what AFA graduate, Joshua Waugh did and is now doing. As I see it, the former offer eternal lament, suffering, complaint, bitterness and the absence of conclusive recovery while the latter, Waugh, offers a model with regard to how one overcomes abuse and injury.
What Joshua Waugh says, as the article relates, is simple but enlightening with respect to how he views life:
Waugh says his philosophy is simple. "Don't let anyone tell you that you aren't good enough to do something," he says. "Just do it. Put in the work. If you want something bad enough, that work is just a bridge – and you can cross it."
What I believe (and this may not be the meal you're interested in eating at the moment but I decline to feed you poison) is that many people refuse to respond to abuse and injury in such a manner as Waugh because suffering and victimization can also become a weapon of blame and finger pointing which is often, very often these days, used to point a finger at someone else in an exaggerated attempt to relieve ourselves of personal responsibility for the rest of our lives. One's failures in life can conveniently be chalked up to his or her past and of course, with a chorus of perpetual victimization supporters who form its industry, who needs to think otherwise?
By all accounts, Waugh should have ended up mentally and emotionally too scarred and incapacitated thus, unable, to achieve in life in any significant way let alone, experience genuine happiness and satisfaction. Yet, here he is, doing both and more!
My guess is he realized, at some point, that he is not responsible nor defined by the actions of others against him. He was not going to remain in their power once released. Whatever his instincts, they were right.
I will admit that this is a thing which takes some measure of effort because it requires personal responsibility for your life beyond a normative experience. In a society where we are taught to blame our problems on others, Waugh is an example for how we should respond to neglect and abuse. Learn and move forward and build bridges to tomorrow.